This is to inform you that the University Management has directed that you should vacate the Halls of residence on or before Monday 22nd March, 2022.
Be further informed that the University will not be responsible for your personal belongings in the hostels. Therefore, you are advised to pack all your legitimate items along with you.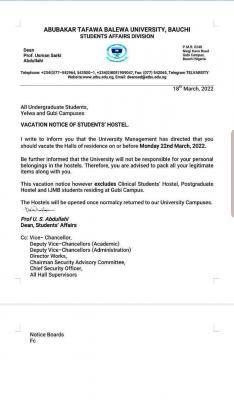 This vacation notice however excludes Clinical Students' Hostel, Postgraduate Hostel and IJMB students residing at Gubi Campus.
The Hostels will be opened once normalcy returned to our University Campuses